Ensure You're Meeting Compliance Requirements
with Unified Smiles &
Compliance Training Partners!

Compliance Training Partners (CTP) is dedicated to advancing the compliance proficiency of dental  facilities by providing high quality, efficient and flexible training options to their team members. In addition, the company offers a full-line of required safety and testing products designed specifically for professional facilities.
CTP's team of OSHA Approved Trainers are highly experienced, having assisted in more OSHA and HIPAA inspection responses for healthcare facilities than anyone in the United States. CTP holds themselves to the highest standards of ethics by providing quality products and services that are fully supported by our dedicated team of compliance and safety experts.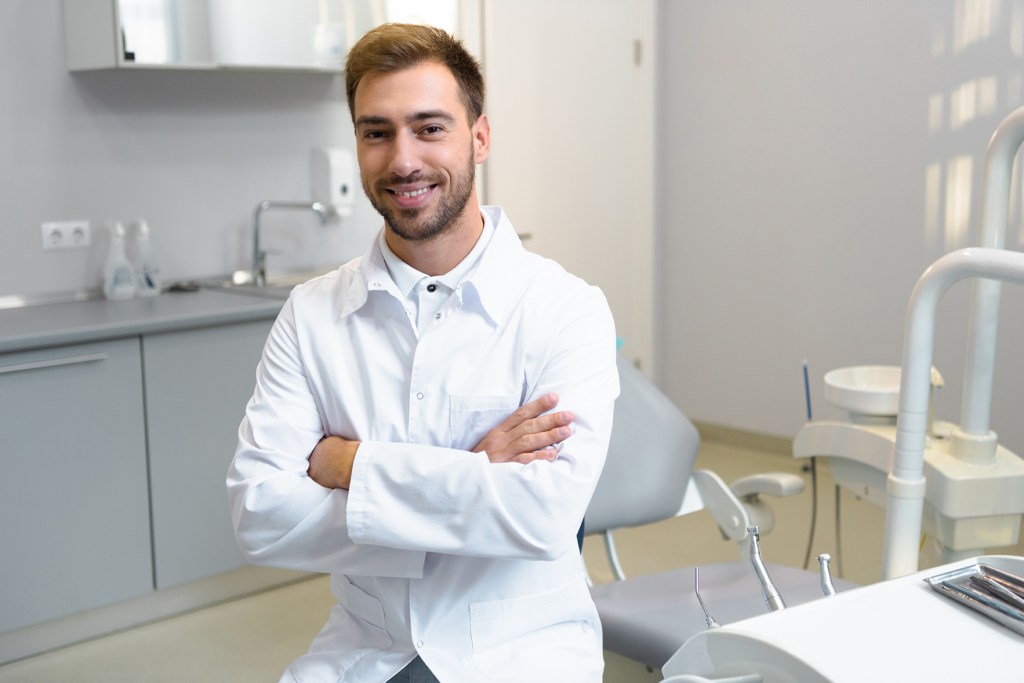 Online Compliance Training
Earn valuable CE Credits with online training from Compliance Training Partners! These easy-to-follow virtual courses help your practice become or remain up-to-code in key aspects of practice operations, and count towards yearly compliance retraining requirements.

Our online HIPAA Compliance Training Program allows you and your entire dental team to fully comply with HIPAA regulations, and prevent costly and embarrassing legal and operational issues that may arise from failure to understand these requirements. The program includes:
Privacy and Security Requirements
Breach Prevention
Safeguarding Protected Health Information
Patient's Rights 
Risk Analysis 
Fines
Proper Responses to a HIPAA Inspection

OSHA Compliance and Infection Control
Our OSHA Compliance and Infection Control Training Program assures that you and your practice leadership team fully understand and adhere to regulations put in place by OSHA. By doing so, you are able to guarantee a safe, hazard-free environment for your staff and patients alike. This OSHA course covers:
CDC Guidelines 
Ionizing Radiation 
Means of Egress 
Noise Control 
Electrical Safety 
Proper Ventilation 
Fire Safety 
First Aid 
Recordkeeping
Proper Responses to an OSHA inspection
Additionally, we will review Infection Control best practices, and discuss the importance of the daily implementation of these practices by every single staff member within your office. This includes:
Proper usage of PPE
Hand Washing and Hygiene
Disinfection and Sterilization
Single-Use Devices
Biological Monitoring
Maintenance of Sterilization Monitoring Records
Proper Response to Infection Control Violations or Issues
Ready to begin your compliance training?
For extended learning opportunities and vital resources for long-term compliance solutions in your office, we are proud to offer full Compliance Programs to help your practice operate within HIPAA and OSHA requirements!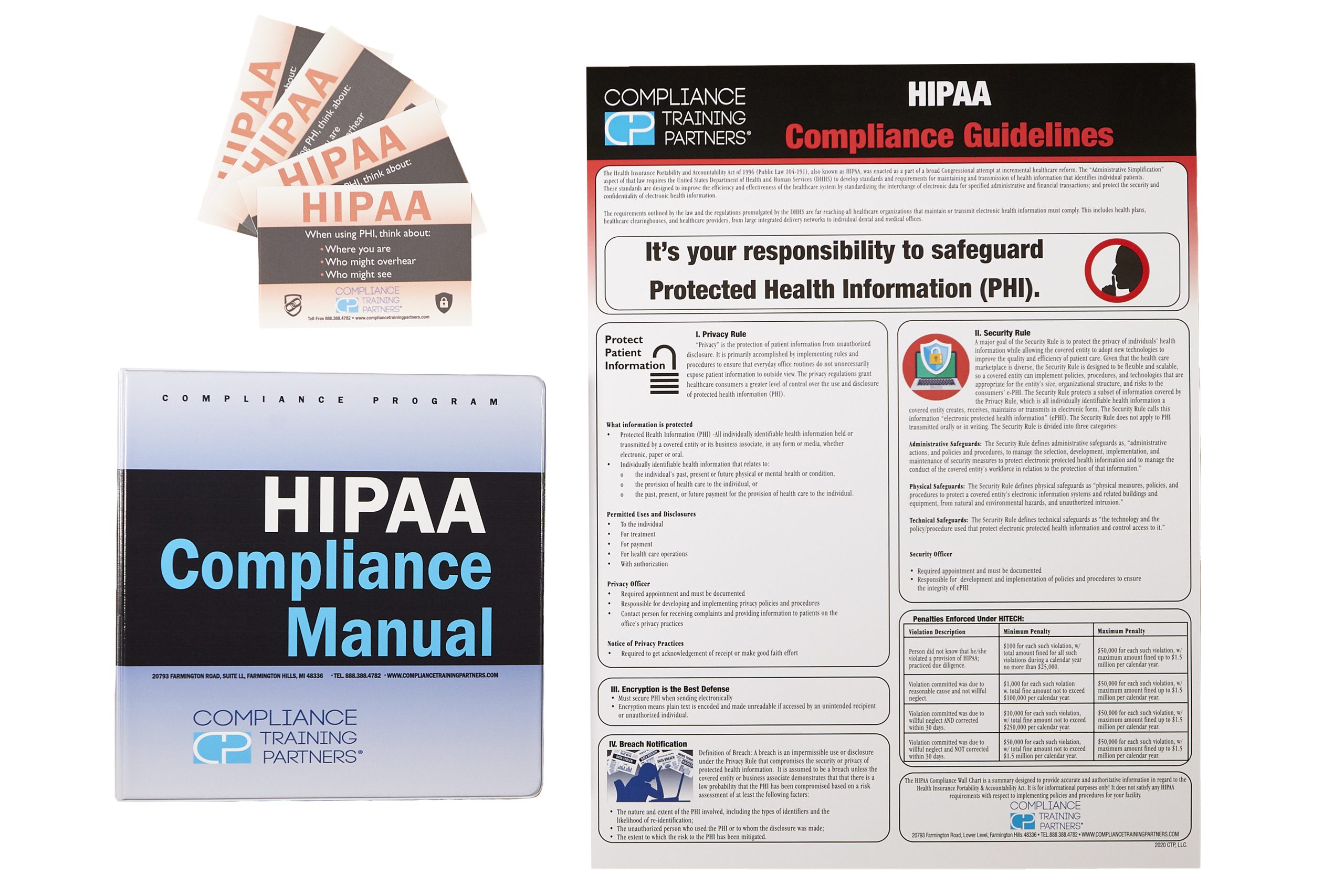 HIPAA requires that all healthcare providers adhere to a specific set of security and privacy standards. Our HIPAA Compliance Program provides everything your office needs to ensure your employees can carry out the requirements of the law and avoid any unnecessary penalties or fines. The HIPAA program includes:
A physical, comprehensive HIPAA manual & copy of HIPAA regulations
Customized policy forms
Reference wall chart and adhesive HIPAA reminder labels
Full support & assistance with HIPAA inspections
App to evaluate your level of compliance
One year of upgrade service
& More!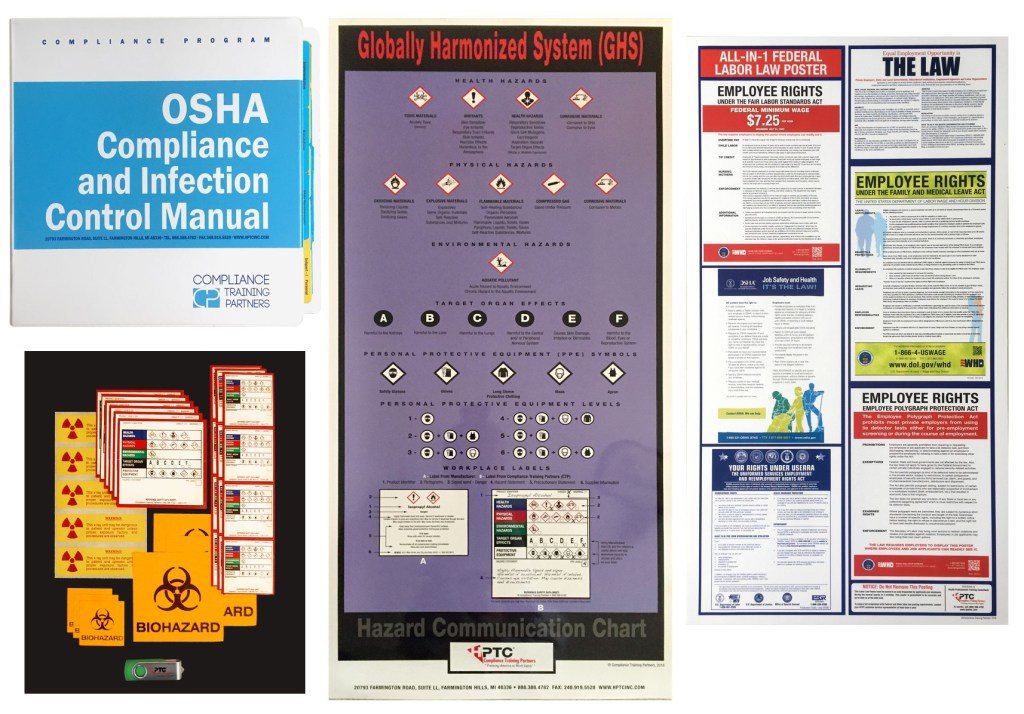 OSHA Compliance and Infection Control
The comprehensive OSHA Compliance and Infection Control Program covers all aspects of the OSH Act as well as the CDC Infection Control Guidelines and other important regulatory areas that affect your practice. This program includes:
Complete written training manual with required documents
Complete Infection Control Program outlined by the CDC
Required Exposure Control Plan & Hazard Communication Plan
Workplace Violence Program
Sexual Harassment Policy
Full support & assistance with OSHA inspections
GHS Hazardous Material wall chart & required Labor Law poster
One year of upgrade service
& More!
Ready to learn more about how Compliance Training Partners can help you assure your office is meeting all compliance requirements?
Contact us today at 888.388.4782 to get started!