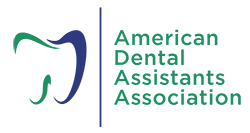 OSHA and Infection Control
Overview for Dental Assistants
OSHA and Infection Control Overview for Dental Assistants
OSHA regulates safety requirements for all workers in the United States. The Centers for Disease Control and Prevention (CDC) outlines best practices to protect employees, as well as patients, from contracting a disease. This one-hour live webinar will review current regulations and best practices to make your job in dentistry the safest possible, for both you and your patients. Topics include:
Bloodborne pathogens
Hazard Communication and chemical safety
Standard precautions
Proper use of PPE
Sterilization and disinfection
Standard operating procedures
Immunization
COVID best practices
This course is approved for 1 hour of live CE
Date: Wednesday, May 26, 2021
Time: 7 PM EST
CE Credits: 1 CEU
Questions: Please contact Julie Shaffer at 888-388-4782
About Compliance Training Partners
Compliance Training Partners is dedicated to advancing the compliance proficiency of dental, medical and animal health facilities by providing high quality, efficient and flexible training options to their team members. In addition, the company offers a full-line of required safety and testing products designed specifically for professional facilities. Their team of OSHA Approved Trainers are highly experienced, having assisted in more OSHA and HIPAA inspection responses for healthcare facilities than anyone in the United States. Compliance Training Partners hold themselves to the highest standards of ethics by providing quality products and services that are fully supported by their dedicated team of compliance and safety experts.
SPEAKER: Karson L. Carpenter, DDS
Dr. Karson L. Carpenter is a practicing dentist who serves as President of Compliance Training Partners. He is an OSHA approved trainer who has for over 25 years designed educational programs to bring dental and medical facilities into compliance with the governmental regulations that affect them in the areas of OSHA, HIPAA and infection control. Dr. Carpenter's experience includes guiding numerous clients across the United States through OSHA and HIPAA inspections, as well as the critical post-inspection process.